Sean Burgess, PhD
Principle Investigator

I have been a professor at UC Davis since 1999. My goal is to create a lab environment where students and researchers have the intellectual and physical resources to be the drivers of their own projects. When not in lab, I may be teaching Advanced Molecular Biology (MCB 121) or Advanced Genetics (MCB 164), or supporting the Integrative Genetics and Genomics Graduate Group. Outside of lab, I enjoy spending time with my family, photography, and of course drinking coffee. You can follow me on twitter @smburgessucd
.
Dr. Kelly Komachi
Senior researcher

Lab bio coming soon!
Ivan Olaya
IGG Graduate Student

I am a third year Integrative Genetics and Genomics PhD student. I have been in the Burgess Lab since July 2017, initially as a tech,  and  work with zebrafish. My goal is to become a professor at a research university. Outside of lab, I enjoy watching movies  (especially superhero movies) and TV shows with friends. I currently have 3 cephalopod tattoos (cuttlefish, octopus and squid) and a Marvel comic book themed sleeve that's in progress.
Jacquelyn Giang
I am a third year Biochemistry and Molecular biology major exploring my passion for genetics. I currently work with zebrafish, and despite working with these animals, I am actually allergic to some species of fish!
Mari Hoffman
Undergraduate Researcher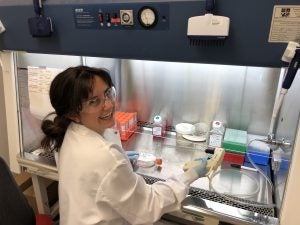 I am a fourth year Genetics and Genomics major. I joined the Burgess Lab  in Winter 2018. and enjoy learning new techniques and asking many questions. When I'm not in lab, I loves to adventure the outdoors through backpacking, climbing and skiing.
Lab Alumni:
Michelle Frees, B.S.
Aliyah Penn, Summer student (HBCU-MCBGAP)
Chad Pittman, Undergraduate
Nadejda Butova, B.S.
Jake Mccarthy. B.S.
Trent Newman, Ph.D
Masuda Sharifi, M.S.
Roilea Maxson, B.S.
Lakshmi Warrier, B.S.
Yana Blokhina, Ph.D.
Tina Li, Summer student (Young Scholars Program)
Meghal Sancheti, B.S
Isabelle Gilchrist, Undergraduate
Na Xiong, B.S.
Faith Simiyu, Summer Student (HBCU-MBGAP)
Noah Papagni, Summer student
Carly Cheung, B.S.
Tanya Gromova, B.S.
Hester Roberts, Ph.D.
Katy Movich, B.S.
Ryan Solis, B.S.
Nancy Ng, B.S.
Ellen Suh, B.S.
Kevin Hinojosa, B.S.
Cade Grunst, B.S.
Laura West, B.S.
Dan Chu, Ph.D.
James McGeHee, B.S., Junior Specialist
Tomás Rodríguez, B.S.
Isabel Chu, B.S.
Travis Martinez, B.S.
Chen Gou, B.S.
Aiza Go, M.S.(deceased)
Brian Bui, M.S.
An Nguyen, B.S., Junior Specialist
Kelsey Walters, B.S.
Carlos Mickell, B.S.
Edgardo Alonzo, B.S.
Sonia Chapiro, B.S.
Cori Cahoon, B.S., Junior Specialist
Jacob Spector, B.S., Junior Specialist
Hsuan-Chung Ho, Ph.D.
Daniel Elnatan, B.S.
Doris Lui, Ph.D.
Tamara Peoples-Holst, Ph.D.
Hsin-Yen Wu, Ph.D.
Natasha Baranova, Ph.D.
Joshua Chang Mell, Ph.D.
Blisseth Sy, M.S.
Dan Ohde, M.S.
Jacquelyn Lang, B.S.
Leana Lai,, B.S.
Enkhee Tuvshintogs,, B.S.
Alex Gulevich, B.S.
Eric Loomis, B.S.
Juan Reyes, B.S.
Omar Cabrera, B.S.
Liquin Chin, B.S.
Patrick Li, B.S.
Sam Cholsiripunlert, B.S.
Bethany Wienholz, B.S.
Laura Sonoda, B.S.
Zev Einhorn, B.S.
Trin Nguyen, B.S.
Eric Dean, B.S., Junior Specialist
Oscar Gonzalez, B.S., Junior Specialist
Salustra Urbin, B.S.
Lindsay Lambourne, B.S.
Clemence Beslin, Visiting student
Celia Shiau, B.S.
Asmaa Salem, B.S.