Sean Burgess, PhD
Principle Investigator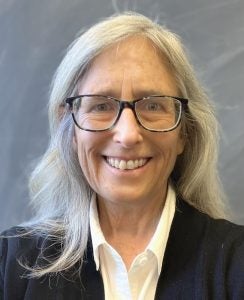 I have been a professor at UC Davis since 1999. My goal is to create a lab environment where students and researchers have the intellectual and physical resources to be the drivers of their own projects. I am also the co-Chair of the Integrative Genetics and Genomics Graduate Group and faculty mentor to the Editorial Board of the Aggie Transcript.@smburgessucd. You can also follow me on twitter @smburgessucd or the lab updates @BurgessLab. In my spare time I enjoy spending time with my family and practicing piano.
Kelly Komachi, PhD
Senior Research Associate

Lab bio coming soon!
Ivan Olaya
 Graduate Student, Integrative Genetics and Genomics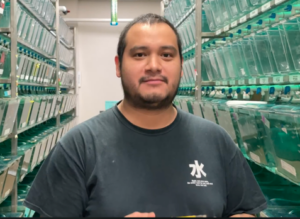 I am a fifth year Integrative Genetics and Genomics PhD student. I have been in the Burgess Lab since July 2017, initially as a tech,  and  work with zebrafish. My goal is to become a professor at a research university. Outside of lab, I enjoy watching movies  (especially superhero movies) and TV shows with friends. I currently have 3 cephalopod tattoos (cuttlefish, octopus and squid) and a Marvel comic book themed sleeve that's in progress.
Alex Neupauer
Undergraduate Researcher

I am a Genetics and Genomics B.S. and Statistics minor (recent grad) and will be starting grad school at UCD in the fall. My work involves quantitative image analysis of meiotic zebrafish chromosomes.
Ilara Yilmaz
I am a fourth year Cell Bio Major and Computational Bio minor and I work with zebrafish in lab. I am also an avid snowboarder, hiker and camper and a huge animal fan… just any and all of them.
Urmi Vaidya
Undergraduate Researcher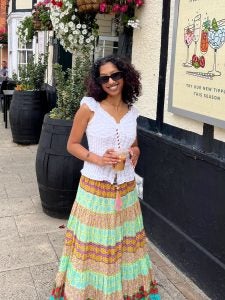 I'm a Genetics and Genomics major. I joined the Burgess lab in winter 2023. In lab, I work with yeast and study meiosis. Outside lab, I enjoy crocheting and baking for my roommates.
Lab Alumni:
Colin Snell, Undergraduate
Mikayla Lopez, Summer student (BioGAP)
Laurel Geraci B.S., Undergraduate
Jacquelyne Giang B.S, Undergraduate
Richard Ma B.S., Undergraduate
Benjamin Spencer B.S., Undergraduate
Abhijeet Chaurasia B.S, Undergradute
Kristi Bispo, Junior Specialist
Mari Hoffman, B.S, Undergraduate
Michelle Frees, B.S., Undergraduate; Junior Specialist
Aliyah Penn, Summer student (HBCU-MCBGAP)
Chad Pittman B.S., Undergraduate
Nadejda Butova, B.S., Undergraduate
Jake Mccarthy. B.S., Undergraduate
Trent Newman, Ph.D, Postdoctoral Fellow
Masuda Sharifi, M.S., Graduate student
Lakshmi Warrier, B.S., Undergraduate
Yana Blokhina, Ph.D., Graduate student
Tina Li, Summer student (Young Scholars Program)
Meghal Sancheti, B.S., Undergraduate
Isabelle Gilchrist, Undergraduate
Na Xiong, B.S., Undergraduate
Faith Simiyu, Summer Student (HBCU-MBGAP)
Noah Papagni, Summer student
Carly Cheung, B.S., Undergraduate
Tanya Gromova, B.S., Undergraduate
Hester Roberts, Ph.D., Postdoctoral Fellow
Katy Movich, B.S., Undergraduate
Ryan Solis, B.S., Undergraduate
Nancy Ng, B.S., Undergraduate
Ellen Suh, B.S., Undergraduate
Kevin Hinojosa, B.S., Undergraduate
Cade Grunst, B.S., Undergraduate
Laura West, B.S., Undergraduate
Dan Chu, Ph.D., Graduate student
James McGeHee, B.S., Undergraduate; Junior Specialist
Tomás Rodríguez, B.S., Undergraduate
Isabel Chu, B.S., Undergraduate
Travis Martinez, B.S., Undergraduate
Chen Gou, B.S., Undergraduate
Aiza Go, M.S. Graduate student (deceased)
Brian Bui, M.S., Graduate Student
An Nguyen, B.S., Undergraduate, Junior Specialist
Kelsey Walters, B.S., Undergraduate
Carlos Mickell, B.S., Undergraduate
Edgardo Alonzo, B.S., Undergraduate
Sonia Chapiro, B.S., Undergraduate
Cori Cahoon, B.S., Junior Specialist
Jacob Spector, B.S., Undergraduate; Junior Specialist
Hsuan-Chung Ho, Ph.D., Graduate student
Daniel Elnatan, B.S., Undergraduate; Junior Specialist
Doris Lui, Ph.D. Graduate student
Tamara Peoples-Holst, Ph.D. Graduate student
Hsin-Yen Wu, Ph.D. Graduate student
Natasha Baranova, Ph.D., Postdoctoral Fellow
Joshua Chang Mell, Ph.D. Graduate student
Blisseth Sy, M.S. Graduate student
Dan Ohde, M.S., Graduate student
Jacquelyn Lang, B.S., Undergraduate
Leana Lai,, B.S., Undergraduate
Enkhee Tuvshintogs, B.S., Undergraduate
Alex Gulevich, B.S., Undergraduate
Eric Loomis, B.S., Undergraduate
Juan Reyes, B.S., Undergraduate
Omar Cabrera, B.S., Undergraduate
Liquin Chin, B.S., Undergraduate
Patrick Li, B.S.m Undergraduate
Sam Cholsiripunlert, B.S., Undergraduate
Bethany Wienholz, B.S., Undergraduate
Laura Sonoda, B.S., Undergraduate
Zev Einhorn, B.S., Undergraduate
Trin Nguyen, B.S., Undergraduate
Eric Dean, B.S., Junior Specialist
Oscar Gonzalez, B.S., Junior Specialist
Salustra Urbin, B.S., Undergraduate
Lindsay Lambourne, B.S., Undergraduate
Clemence Beslin, Visiting student
Celia Shiau, B.S., Undergraduate
Asmaa Salem, B.S., Undergraduate